Cabin
Each cabin unit contains two rooms with bathroom facilities. The room is sized to sleep 4 comfortably, an option to the layout shown is to have a king size bed and a sofa pull-out bed. Also to accommodate families traveling together an interconnecting doorway could easily be added to a few of the cabins.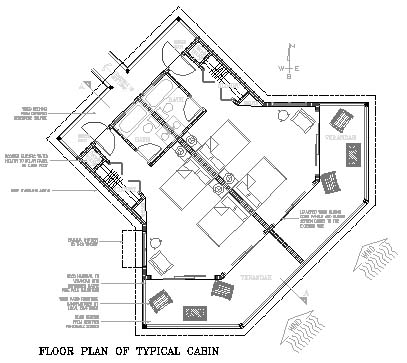 The units are oriented on the site to take advantage of the prevailing winds to allow for natural cooling of the cabins. And shading is provided to windows by the use of Bahama shutters. The orientation also allows for spectacular views of the vegetation and sand flats to the south of the site.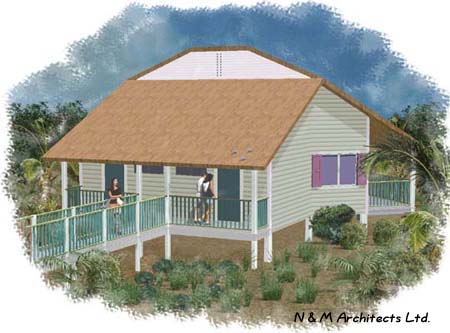 Each cabin is accessed by a board walk that minimizes the impact on the site. As the site also floods occasionally it also allows for convenient and clean movement around the facilities.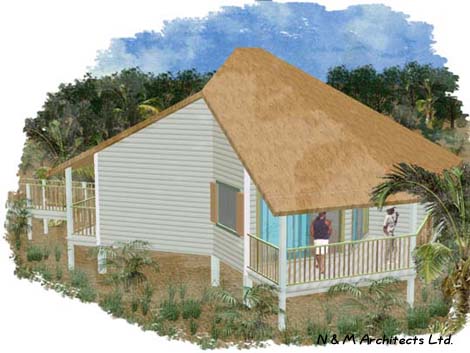 By having the cabins raised of the ground it allows the faster moving air currents to flow through the unit, and avoids the heated slow moving air at ground level. The cabins also have solar water heater panels located on the south facing roof face, with an electric booster heater in the utility closet (solar panel not shown in this view).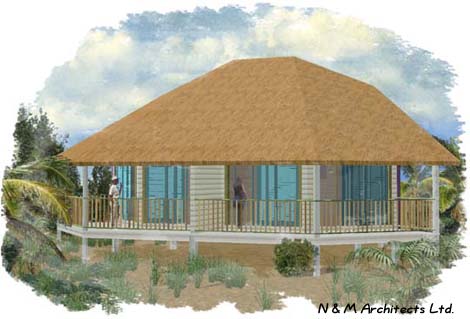 The verandah at the rear of each cabin allows easy viewing of the surrounding flora and fauna. It also allows for the louvered sliding doors the sleeping area to be left open and still be protect from the occasional rain storm.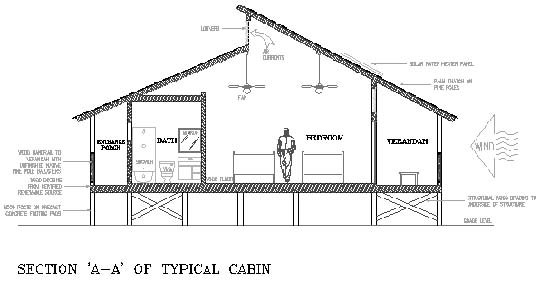 Air enters the cabin through the front louvered verandah doors and can move up and out through the high level vents at the ridge. The front door can be left open to allow air movement at lower levels. Screen doors at front and back prevent insect intrusion into the cabin.